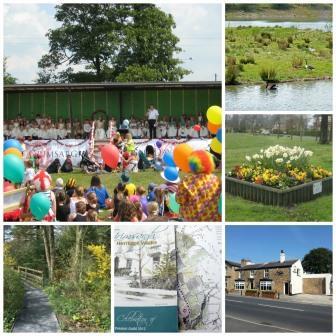 We have been approached by the Harris Museum and Art Gallery about a really interesting project - as follows:

"I am contacting you with regards to a film project that we will be working on this summer and the possibility of people from Grimsargh being involved in this. We are particularly looking for community "groups from rural areas as we have an exhibition over the summer that called 'A Green and Pleasant Land? – Rural Life in Art' and we would really like one of the films to be linked to the exhibition. We were wondering whether Grimsargh Parish Council would be interested in putting together a group of residents to take part in the project or if you knew of any established local groups who would be interested.
Just to give you a bit of background - the idea of the project is for different groups, from in and around Preston, to make a short film about where they live and what they think about living in Preston. The starting point for inspiration are the films created by Will Onda, who documented Preston events around 100 years ago. We are working with a wonderful film company called First Take who often create films with community groups. Their work can be seen on their website: www.first-take.org.
Please could you let me know if there is any interest with regards to the film project from Grimsaugh Parish Council or from local community groups? We are hoping to get the project started in June, so it would be wonderful if you could let me know soon if there is any interest. I have attached a document which explains what the project is about and also an expression of interest form which can be completed if anyone is interested.
As well as the film, there are other ways to get involved with the exhibition; we are also looking for people to reflect on how farming has changed in the past 100 years and for people who still use traditional farming skills such as dry stone walling. These skills would relate to the artwork that is being displayed in the exhibition. The curator, Lindsey, who is putting the exhibition together, is very interested in talking to people, especially in relation to events that will run alongside the exhibition. I have attached a leaflet which explains what she is looking for."
Sounds super, doesn't it? We have already been in touch with a number of the groups and organisations in the village. If you belong to a group - contact the organisers and see if they are planning to get involved. If they weren't included in our communications - apologies - let us know and we'll ensure they don't get missed out again!
Gillian's contact details are as follows:
Email: G.Ashcroft@preston.gov.uk
Phone: 01772905429