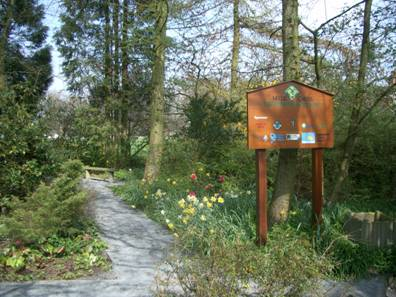 In 1942 a substantial area of land situated off Preston Road (opposite Nook Glade) next to the public footpath was rented by the Mallott family of Grimsargh House, to the Headmistress of Grimsargh Parochial School - Miss Nellie Carbis. The rent was set at a princely sum of One Shilling.
For many years children from the school tended the garden and introduced in excess of 140 species of trees, plants and shrubs, as well as constructing a stone wall and pond within the grounds. Detailed records were kept by Miss Carbis relating to the origin and history of the growth of each species.
Following her retirement, Nellie managed to maintain the garden, mainly through her own efforts, but as years passed by she was unable to continue her work and during the 1980s the garden became overgrown.
In 1995 the garden became the responsibility of Grimsargh Parish Council when it was handed over by the Central Lancashire New Town Development Corporation.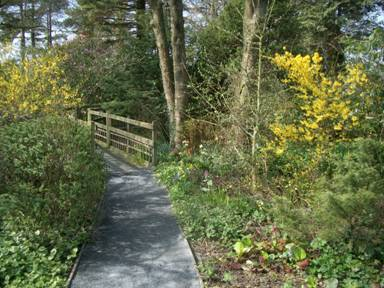 In 1998 a feasibility study decided that it could be restored, not as a garden, but as a woodland area. A project group was formed and a number of residents of the village volunteered to assist with the restoration work. Work commenced in January 1999 and once the overgrown vegetation had been cleared pathways were created and seats were placed.
The pond was rebuilt and additional planting took place with the guidance from staff at Myerscough College. A bridge was constructed by British Aerospace and a new entrance and gate were included, giving access to the disabled. Local schoolchildren were involved and they also constructed a number of bird nesting boxes.
Thanks to the efforts of the volunteers and organisations that provided monetary and practical assistance the woodland is a place that residents and visitors alike can visit at their leisure.
Nellie passed away on 29th November 1999 aged 95. She had toured the woodland with the Project Group only days before her death and was delighted with what she saw.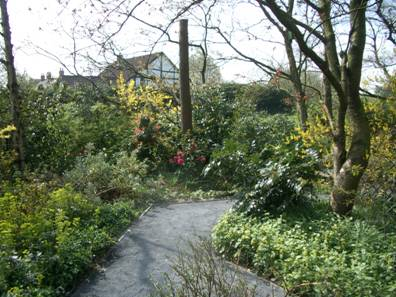 The land used to be called "The Old School Garden" but because Nellie always believed that nature should be allowed to reign supreme with little human help, it was decided to rename it a woodland and as it was officially opened in the year 2000, it was renamed "The Nellie Carbis Millenium Woodland".
The responsibility for the maintenance of the garden was recently transferred to the Parish Council who are now formulating plans for it's ongoing upkeep and improvement.
If you have any comments or ideas about the woodland please contact the Clerk to the Council.
The woodland is open twenty four hours a day all year round.